One of the most common questions people interested in a real estate career with our company ask is, "What is the Keller Williams commission split?" It's funny to say, but it doesn't really matter!
When it comes down to it, the most important thing a broker can provide you is the best real estate training, not a generous split. 100% of zero is still zero. If you don't know what you're doing or how to run a business the right way, people are going to choose not to work with you.
The Best Real Estate Agent Commission Split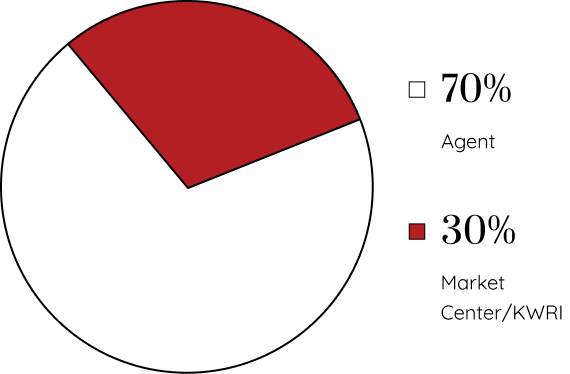 With that said, the Keller Williams commission split is very competitive compared to other real estate firms. Every agent at Keller Williams is treated exactly the same. There are no prima donna's running around yelling at new agents for doing something wrong or parking in their coveted reserved parking space. Every agent is on a 70/30 split. That's 70% to the agent and 30% to the broker. Since KW is a franchise, there is a franchise fee (6% on each transaction up to $3,000) which is included in this calculation.
Another way you may see this calculated is with an agent on a 64/30/6% split. 64% to the agent, 30% to the market center and 6% to KWRI (capped at $3000). Both formulas get you the same result because the Keller Williams commission split is capped.
The best part about the Keller Williams commission structure is the 'cap'. Each office has a cap on commissions based on economic conditions and operating expenses for that specific market center. Also contributing to the cap amount is the average median home price in your area. It usually amounts to selling 8-10 houses per year. Once an agent reaches the set amount of production (cap), they are no longer required to pay the office a split, meaning the agent is at a 100% commission until their anniversary year starts again. How amazing is that?